How To Choose A Suitable Rodless Cylinder For Mechanical Design?
Views: 256 Author: Site Editor Publish Time: 2022-02-03 Origin: Site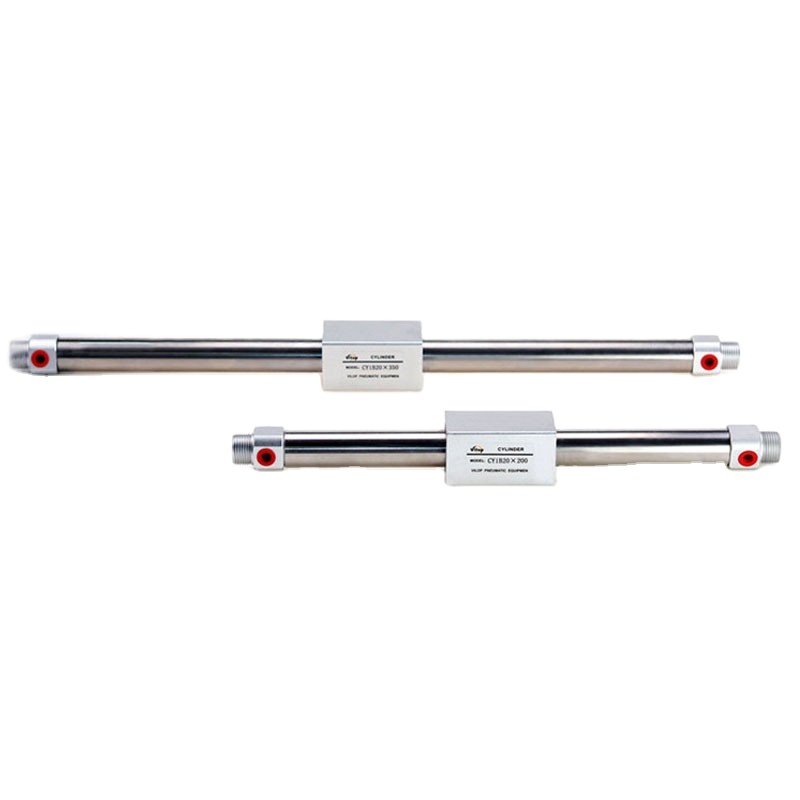 Cylinder is widely used in industrial field, especially rodless cylinder. Rodless cylinder has the characteristics of small volume and complete closure, so it is very suitable for most mechanical design. The rodless air cylinder can save space as much as possible without sacrificing the performance of the mechanical structure, and can be installed on any plane. In addition, rodless cylinders can be grouped to adapt to multi shaft design.
Types Of Rodless Cylinders
The cable or band can be used to connect the piston or bracket in the mechanical coupling design, and the bracket can operate as a separate unit. Pistons or brackets can accommodate direct loading and in many cases do not require additional loading support from the navigation system. If your mechanical design requires loads to hold brakes, linear guides, valves, or sensors can be connected directly to rodless hydraulic cylinders.
The magnetic coupling design can use powerful rare earth magnets to connect the piston and bracket. These rodless cylinder actuator usually require mechanical guidance systems to help support the load, but these systems are usually light weight and low maintenance cost.
Applications Of Rodless Cylinders
Rodless cylinder is a device with relatively simple structure, but they have excellent performance and good durability, and can produce great force at various speeds. The rodless single acting cylinder can cycle quickly without overheating, and can also brake the load without damaging internal parts. Generally, rodless cylinders can be used in dusty, humid environments and where frequent high-pressure flushing is required.
The rodless cylinder is very suitable for areas with narrow space. Because the rodless cylinder has no connecting rod, its volume is smaller than the traditional cylinder. Generally, the rodless single acting cylinder only needs half the space to complete the same workload as the traditional cylinder. Rodless cylinders are also an ideal solution for long stroke or high torque loads. Rodless cylinder is usually used in textile, corrugated paper splicing machine, packaging materials, printing, silk screen printing, automobile assembly and other fields.
How To Select Rodless Cylinder
Although the rodless cylinder has excellent performance, it also means that many factors will affect whether you can use it in mechanical design. For example, you need to consider variables such as size, direction of movement, and guidance.
At present, the main rodless cylinders in the market can be divided into the following categories: standard rodless cylinder, enclosed cable rodless cylinder, magnetically coupled rodless cylinder and light band rodless cylinder. The performance, size and other parameters of these rodless cylinders are different. Magnetically coupled rodless cylinders are usually made of stainless steel and can be used in various types of mechanical design.
Although there are various types of rodless cylinders on the market, these products may not be perfectly suitable for your mechanical design. Therefore, you may need to contact the manufacturer and customize the rodless cylinder. Custom rodless cylinders can help you get the most cost-effective products. Our company has been committed to the research and production of various cylinders for many years. You can find relevant product information on our website and contact us.